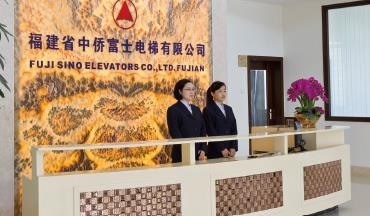 Fuji Sino Elevators Co., Ltd. which previously well known as Quanzhou Lift Factory is situated in Quanzhou Economic & Technological Development Area have decades of history in elevator manufacturing. Since 1997, it teamed up with an international established partner to transfer advanced state of the art Japanese elevators, escalators and moving walks technologies to its fully equipped modern manufacturing plant supported by latest manufacturing equipment and professionals guaranteed that FUJI products produced are of the highest quality.
The technical cooperation also serves to enhance the FUJI elevators as product in term of added features such as advanced integrated and intelligent control technologies. Through proper training and guidance, the knowledge gained combined with professional and dedicated working culture ensured that FUJI products adopted environment friendly, power saving and economical maintenance.
FUJI products compassed many of the common attributes expected by today's modern society. It is the result of the company's Research & Development efforts that embraces the leading edge technologies complied with the proceeding might and the versatility of humble microprocessor. Versatility is achieved via programmable micro controllers, the software which can be written to cater to the exact requirements of the clients. Our engineers hav...